About Us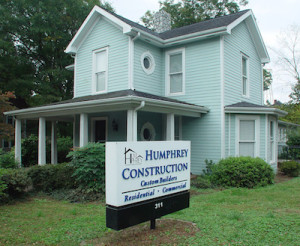 Finding the perfect home is always a challenge. A home that fits your lifestyle, represents your tastes and fulfills the needs of your family is one that is worth the challenge and the big investment you'll make when buying a home. That's why Humphrey Construction personally caters to your needs to ensure your home-buying experience is one you'll never forget so your home living experience is one you'll always remember. Whether you are looking to settle down in Gaston County, Davidson NC, Cornelius NC or Mecklenburg County, Humphrey Construction is the custom builder for you!
Every home we build receives the greatest attention to detail from our skilled team of craftsmen. Whether you need a simple starter home, a completely custom home with up to 5,000 square feet or a patio home for couples looking for maintenance free yard and exterior, Humphrey Construction can build it for you!
History
Founded by Bob Humphrey, Sr. more than 30 years ago, Humphrey Construction has dedicated itself to providing customers in the Gaston County, Mecklenburg County and surrounding areas with the highest quality homes at the most affordable costs. Bob's more than 60 years as a community member, coupled with the company's extensive experience has constructed a strong foundation for professional success and most importantly, for customer satisfaction.
Bob Humphrey, Jr. joined the company in 1988. As on-site manager he ensures the job is done right! A general contractor in his own respect, Bob Humphrey, Jr. ( Butch ) started from the ground floor and learned all aspects of home building. He is the customer's eyes and ears during the building process.
As a member of the Home Builders Association of Gaston County, Humphrey Construction upholds the industry's highest standards so your home represents the highest level of quality. Annually showcasing our homes in the Parade of Homes has led our company to receiving several awards for innovative design. With features such as tray and barrel ceilings, gas fireplaces, custom cherry cabinets, granite countertops, under-cabinet lighting as well as recessed lighting, your new home by Humphrey Construction will offer you all of the elegance and convenience you could ever imagine.
Contact Humphrey Construction to end your search for that perfect home. Call 704.922.8631 or email us today!